I am one of those people who's always got ideas ideas ideas floating about my noggin. Yesterday, for example, I was looking for oil for my sewing machine and walked out with new fabric. Oops! I am finally beginning to realize that without a list of things I need I am nearly hopeless, unless I've got hours to wander about and remember everything.
In that spirit, I've decided to make a list of quilting and sewing techniques I'd like to try/various things I'd like to make.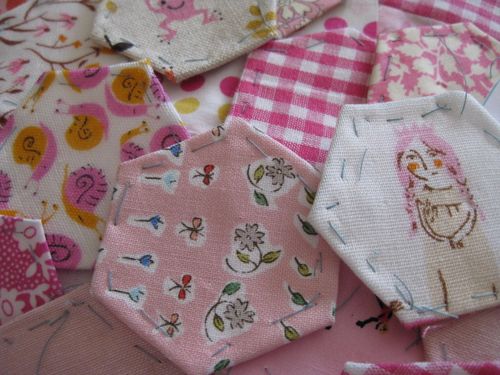 (from comfortstitching)
1. Hexagons. They're so cute, and everyone is using them lately. I'm liking them as decoration on simple items like moleskines, or just as an accent to a quilt, like Ashley at Film in the Fridge has done.
2. Circles. They seem like they'd be difficult to sew, but they look so nice!


(from A Commonplace Life)
3. Wonky log cabin style blocks. All the excess trimmed fabric can be made into hexagons! (Can you tell I despair over throwing away any scrap, no matter how small? And that I love hexagons?)


(for sale here)
4. I have a sudden urge to make a potholder today. I might just do that right now!


(for sale here)
There are many more goals of mine with quilting, but I'll stick to these for now. Don't want to get too ahead of myself!
-K
Filed under: fabric, Film in the Fridge, Heather Ross, Log Cabin Blocks, new patterns, quilt tops, quilts, sewing | Tagged: circles, fabric, fabrics!, goals, hexagons, Log Cabin Blocks, new techniques, potholders, quilting, quilts, wonky log cabin blocks | Leave a comment »